The 10th anniversary of the Baltic Way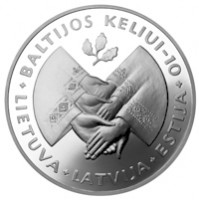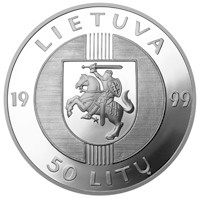 The obverse
of the coin features the Coat of Arms of the Republic of Lithuania inside a shield. The inscription LIETUVA (Lithuania) arranged in a semi-circle runs at the top and the inscription 50 LITŲ (50 litas) at the bottom. The year 1999 is displayed on both sides of the Coat of Arms.
The reverse
of the coin displays a stylised motif of hands, encircled with the inscriptions BALTIJOS KELIUI — 10 (Baltic Way — 10), LIETUVA (Lithuania), LATVIJA (Latvia) and ESTIJA (Estonia).
On the edge of the coin:
VILNIUS RYGA TALINAS (FOR LITHUANIA'S SAKE LET OUR UNITY BLOSSOM).