The 150th Anniversary of the 1863–1864 Uprising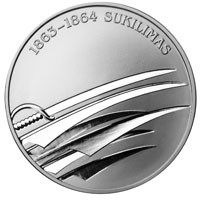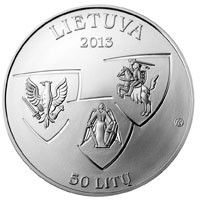 The obverse
of the coin bears the coats-of-arms of the 1863–1864 Uprising with the inscriptions LIETUVA (Lithuania) and 2013 above it, and 50 LITŲ (50 litas) at the bottom. Also featured on the coin is the mintmark of the Lithuanian Mint.
The reverse
of the coin bears artistically depicted arms; at the top, the inscription 1863-1864 SUKILIMAS (the 1863–1864 Uprising) is written in a semi-circle.
The edge of the coin
bears the inscription LAISVĖ*LYGYBĖ*NEPRIKLAUSOMYBĖ* (FREEDOM*EQUALITY*INDEPENDENCE).