The 150th anniversary of the National Museum of Lithuania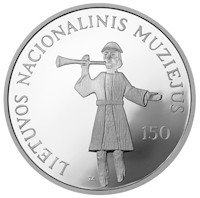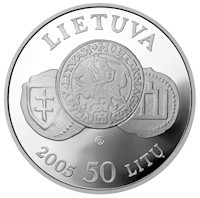 The obverse
of the coin features the Lithuanian coins of the 14th–16th centuries containing the most significant heraldic signs of the state of Lithuania—the symbol of the Coat of Arms Vytis, the double cross and the Columns of Gediminas. At the top runs the inscription LIETUVA (Lithuania) in a semi-circle, and, at the bottom, 2005 and 50 LITŲ (50 litas).
The reverse
of the coin displays the image of St Michael the Archangelwith a trumpet, which is surrounded by the inscription LIETUVOS NACIONALINIS MUZIEJUS 150 (National Museum of Lithuania 150).
On the edge of the coin:
PRO PUBLICO BONO.