The 200th birth anniversary of Motiejus Valančius (1801-1875)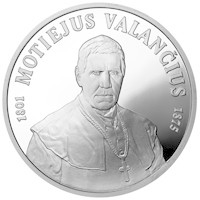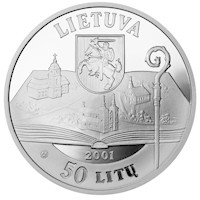 The obverse
of the coin features the Coat of Arms of the Republic of Lithuania inside a shield. The centre displays an open book with the fragments of Varniai, the centre of the Samogitian diocese. The inscription LIETUVA (Lithuania) runs at the top and the inscriptions 2001 and 50 LITŲ (50 litas) at the bottom.
The reverse
of the coin displays the portrait of Motiejus Valančius. The inscriptions 1801, MOTIEJUS VALANČIUS, 1875 are arranged in a semi-circle.
On the edge of the coin:
LIETUVISKAS ŽODIS, RAŠTAS IR TIKĖJIMAS — TAUTOS GYVASTIS (THE LITHUANIAN WORD, WRITING AND FAITH ARE THE VITALITY OF THE NATION).