The 425th anniversary of Vilnius University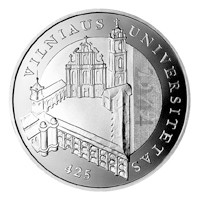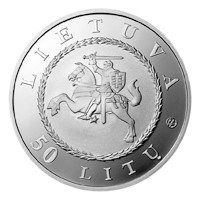 The obverse
of the coin depicts the Coat of Arms of the Republic of Lithuania, arranged in a circle around a floral ornament. At the top runs the inscription LIETUVA (Lithuania) in the shape of a semi-circle, and, at the bottom, respectively, 50 LITŲ (50 litas).
The reverse
of the coin displays an image of Vilnius University, encircled with the inscription VILNIAUS UNIVERSITETAS 425 (Vilnius University 425). The right side contains the years 1579 and 2004, which appear when the coin is tilted at a certain angle.
On the edge of the coin:
UNIVERSITAS VILNENSIS.
The coin won first place in the "International Prize Vicenza Palladio" nomination given for the best architectural representation at the international numismatic exhibition Vicenza Numismatica at Vicenza, Nord Italy, in 2005.