The 475th anniversary of the First Statute of Lithuania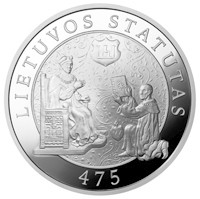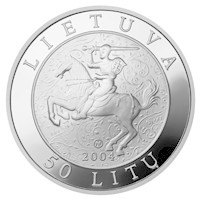 The obverse
of the coin displays a historical 16th century symbol of the Vytis, similar to the drawing of the Vytis published in one of the copies of the Statute of Lithuania. The area around the Vytis has a floral damascened background. At the top runs the inscription LIETUVA (Lithuania) in the shape of a semi-circle, and, at the bottom, 50 LITŲ (50 litas) and 2004.
The reverse
of the coin has a damascened background. The centre of the reverse shows Albertas Goštautas, Chancellor of the Grand Duchy of Lithuania and Palatine of Vilnius, presenting the Statute of Lithuania to King Sigismund the Old. At the top of the coin are the Columns of Gediminas and at the bottom is the Abdank, the Coat of Arms of Goštautas. The coin is encircled with an inscription LIETUVOS STATUTUI 475 (475 years of the Statute of Lithuania).
On the edge of the coin:
BUKIME TEISES VERGAI, KAD GALETUME NAUDOTIS LAISVEMIS (LET US BE SLAVES OF LAW SO THAT WE COULD ENJOY FREEDOMS).