The 5th anniversary of the reestablishment of independence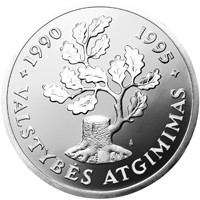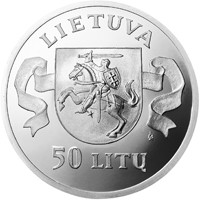 The obverse
of the coin features the Coat of Arms of the Republic of Lithuania inside a shield with ribbons waving symmetrically down on both sides of it. The inscription LIETUVA (Lithuania) runs at the top and 50 LITŲ (50 litas) at the bottom.
The reverse
of the coin displays a tree stump and an offset growing from it and spreading out at the centre up to the top of the coin. The inscriptions VALSTYBĖS ATGIMIMAS (Re-Establishment of the State), 1990 and 1995 are arranged around it.
The words on the edge of the coin:
TEGUL MEILĖ LIETUVOS DEGA MŪSŲ ŠIRDYSE* (LET LOVE FOR LITHUANIA BURN IN OUR HEARTS).