The 600th anniversary of the settling down of Karaims and Tatars in Lithuania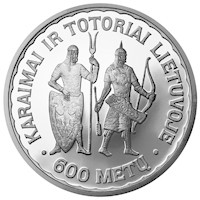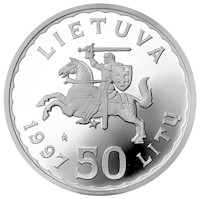 The obverse
of the coin features the Coat of Arms of the Republic of Lithuania, encircled with the inscriptions LIETUVA (Lithuania), 50 LITŲ (50 litas) and 1997.
The reverse
of the coin displays a Karaite castle guard and a Tartar warrior (Karaites and Tartars were brought to Lithuania by the Grand Duke of Lithuania Vytautas at the end of the 14th century). The inscription KARAIMAI IR TOTORIAI LIETUVOJE, 600 METŲ (Karaites and Tartars in Lithuania, 600 years) runs around.
On the edge of the coin:
LIETUVA, TEVYNĖ MŪSŲ *** (LITHUANIA, OUR FATHERLAND).