The 750th anniversary of the coronation of Mindaugas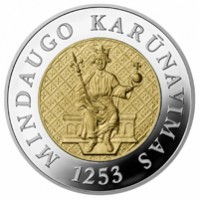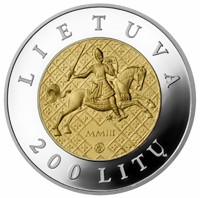 The obverse
of the coin features the stylised Vytis, the rider of Mindaugas times, which later became the state Coat of Arms. The inscription LIETUVA (Lithuania) arranged in a semi-circle runs at the top and the inscription 200 LITŲ (200 litas) at the bottom. Below the Coat of Arms is the year in Latin letters MMIII.
The reverse
of the coin displays the ruler on a throne; he has a sceptre in his right hand and an orb of power in his left. The inscription MINDAUGO KARŪNAVIMAS, 1253 (Coronation of Mindaugas, 1253) runs around it.
The words on the edge of the coin:
LIETUVOS KARALYSTĖ 1253 (THE KINGDOM OF LITHUANIA 1253).
Weight
— 15 g (core — 7.9 g).