The 75th anniversary of the Bank of Lithuania and the litas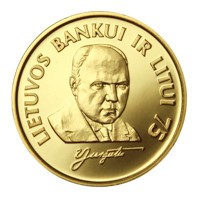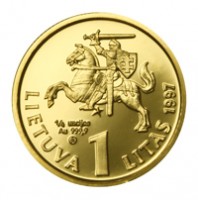 The obverse
of the coin features the Coat of Arms of the Republic of Lithuania. The inscriptions LIETUVA (Lithuania), 1 LITAS (1 litas) and 1997 are arranged in a semi-circle below it. On the left of the gold coin, the inscription ¼ UNCIJOS/Au 999,9 (¼ Oz /Au 999.9) is indicated.
The reverse
of the coin displays a portrait of Professor Vladas Jurgutis (1885-1966) and a facsimile of his signature below it. The inscription LIETUVOS BANKUI IR LITUI 75 (75th anniversary of the Bank of Lithuania and the litas) runs around it.
Edge of coin
— rimmed at intervals.