The Curonian spit (UNESCO World Heritage)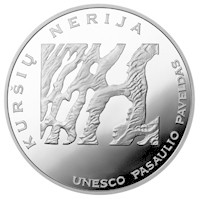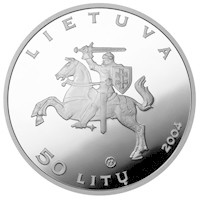 The obverse
displays the Coat of Arms of the Republic of Lithuania in the centre. At the top runs the inscription LIETUVA (Lithuania) in the shape of a semi-circle, and, at the bottom, 50 LITŲ (50 litas) and 2004.
The reverse
of the coin features a stylised fragment of the dunes, encircled with the inscription KURŠIŲ NERIJA (Curonian Spit) at the top and UNESCO PASAULIO PAVELDAS (UNESCO World Heritage) at the bottom.
The edge of the coin
features patterns from the emblem of Neringa.