Trakai Island Castle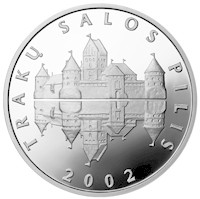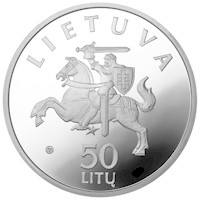 The obverse
of the coin features the Coat of Arms of the Republic of Lithuania. The inscription LIETUVA (Lithuania) arranged in a semi-circle runs at the top and the inscription 50 LITŲ (50 litas) at the bottom.
The reverse
of the coin displays the Trakai Island Castle, which is encircled with the inscription TRAKŲ SALOS PILIS, 2002 (Trakai Island Castle, 2002).
On the edge of the coin:
ISTORIJOS IR ARCHITEKTUROS PAMINKLAI (HISTORICAL AND ARCHITECTURAL MONUMENTS).