UNICEF coin program "Children of the World"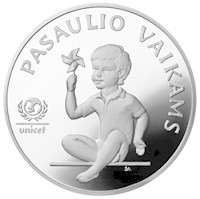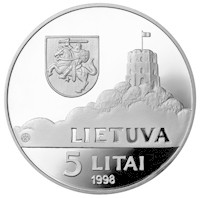 The obverse
of the coin features the Coat of Arms of the Republic of Lithuania inside a shield. The Vilnius Upper Castle is displayed on the right. Below run the inscriptions LIETUVA (Lithuania), 5 LITAI (5 litas) and 1998.
The reverse
of the coin displays a boy with a windmill and the logo of the UNICEF on the right. Around runs the inscription PASAULIO VAIKAMS (For the children of the world).
On the edge of the coin:
LIETUVOS BANKAS*LIETUVOS BANKAS.