Uprising of 1831 and the 200th birth anniversary of its heroine Emilija Pliaterytė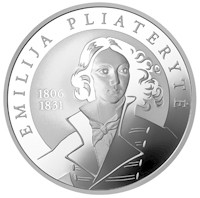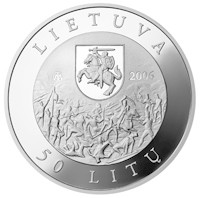 The obverse
of the coin features the Coat of Arms of the Republic of Lithuania inside a shield. A fragment of the uprising is incorporated in its background. The obverse is surrounded by the inscriptions LIETUVA (Lithuania) and 50 LITŲ (50 litas). The year 2006 is displayed on the right.
A portrait of Emilija Pliaterytė, a hero of the uprising, is shown on
the reverse
of the coin with the inscription 1806-1831 to the left from the portrait. At the top, the inscription EMILIJA PLIATERYTĖ is arranged in a semi-circle.
The words on the edge of the coin:
1831 SUKILIMAS
(1831 UPRISING)