Vilnius Capital of Culture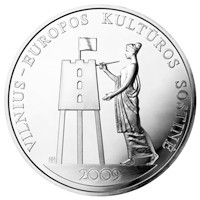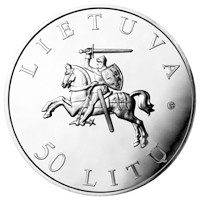 The obverse
of the coin carries an image of the Coat of Arms of the Republic of Lithuania (Vytis) in the centre, The inscriptions LIETUVA (Lithuania), 50 LITŲ (50 litas) or 1 LITAS (1 litas) are in a semicircle around the edge.
The reverse
of the coin has picture of an artist Muse, symbolising the spring of European culture—Classical culture—and of an easel imitating the contours of Gediminas Castle—the symbol of Vilnius. It is encircled with the inscriptions VILNIUS – EUROPOS KULTŪROS SOSTINĖ (Vilnius—European Capital of Culture)and 2009.
On the edge of the coin:
VILNIUS–METROPOLIS CULTURAE EUROPENSIS.