Vilnius Cathedral (from the series "Historical and Architectural Monuments of Lithuania")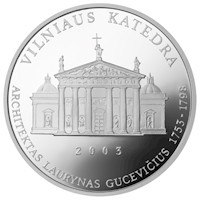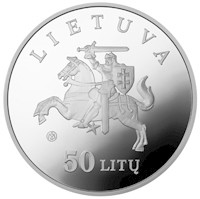 The obverse
of the coin features the Coat of Arms of the Republic of Lithuania. The inscription LIETUVA (Lithuania) arranged in a semi-circle runs at the top and 50 LITŲ (50 litas) at the bottom.
The reverse
of the coin displays the Vilnius Cathedral, which is encircled with the inscription VILNIAUS KATEDRA, ARCHITEKTAS LAURYNAS GUCEVIČIUS 1753-1798 (Vilnius Cathedral, architect Laurynas Gucevičius 1753-1798) Below the cathedral, the year 2003 is displayed.
The words on the edge of the coin:
HISTORICAL AND ARCHITECTURAL MONUMENTS.