Vilnius (from the series "Cities of Lithuania")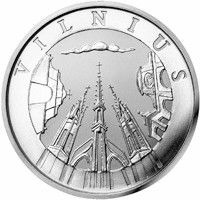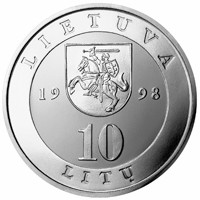 The obverse
of the coin features the Coat of Arms of the Republic of Lithuania inside a shield. The inscription LIETUVA (Lithuania) arranged in a semi-circle runs at the top and 10 LITŲ (10 litas) at the bottom The year 1998 is displayed on both sides of the Coat of Arms.
The reverse
of the coin presents the fragments of one of the most famous architectural ensembles of Vilnius. The inscription VILNIUS runs at the top.
On the edge of the coin:
VILNIUS — LIETUVOS SOSTINE (VILNIUS — THE CAPITAL OF LITHUANIA).