Vilnius Upper Castle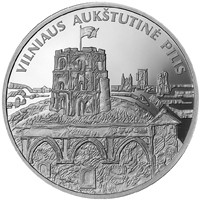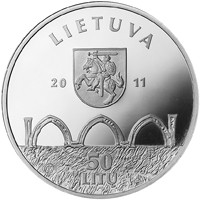 The obverse
of the coin carries an image of the Coat of Arms of the Republic of Lithuania (Vytis) in the centre on a shield. At the top, the inscription LIETUVA runs in a semicircle, while the inscription 2011 runs in two parts on both sides of the emblem. Below the national emblem, an element of the brick wall of the Castle, with the inscription 50 LITŲ (50 litas) below it, is depicted.
The reverse
of the coin features a stylised image of Vilnius Upper Castle in the background of the city. At the top, the inscription VILNIAUS AUKŠTUTINĖ PILIS runs in a semicircle.
On the edge of the coin:
ISTORIJOS IR ARCHITEKTUROS PAMINKLAI (HISTORICAL AND ARCHITECTURAL MONUMENTS).