Vytautas the Great, the Grand Duke of Lithuania (from the series "Rulers of Lithuania")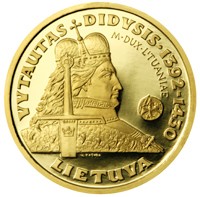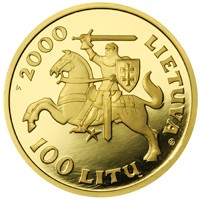 The obverse
of the coin features the Coat of Arms of the Republic of Lithuania, encircled with the inscriptions 2000, LIETUVA (Lithuania) and 100 LITŲ (100 litas).
The reverse
of the coin presents the picture of the Grand Duke of Lithuania Vytautas according to the medal created by the sculptor Vytautas Kašuba. The picture is encircled with the inscriptions VYTAUTAS DIDYSIS • 1392-1430 (Vytautas the Great • 1392-1430, LIETUVA (Lithuania) and M•DUX• LITUANIAE in Latin.
On the edge of the coin:
IŠ PRAEITIES TAVO SŪNŪS TE STIPRYBĘ SEMIA* (FROM THE PAST LET YOUR SONS DERIVE THEIR STRENGTH).