60th anniversary of the flight across the Atlantic Ocean by Steponas Darius and Stasys Girenas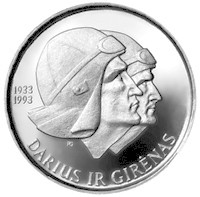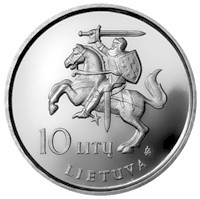 The obverse
of the coin features the Coat of Arms of the Republic of Lithuania with the inscriptions 10 LITŲ (10 litas) and LIETUVA (Lithuania) below it.
The reverse
of the coin displays a bas-relief with the portrait of the pilots Darius and Girėnas. The inscription DARIUS IR GIRĖNAS (Darius and Girėnas) runs at the bottom with the years 1933-1993 on the left.
The words on the edge of the coin:
SLOVE ATLANTO NUGALETOJAMS (GLORY TO THE CONQUERORS OF ATLANTIC).
Alloy of copper and nickel (Cu 75%, Ni 25%).