150th birth anniversary of Jonas Basanavičius (1851-1927)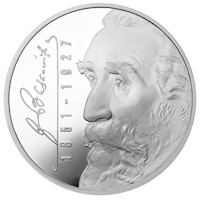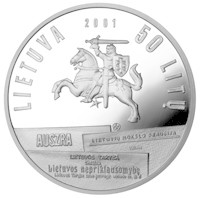 The obverse
of the coin features the Coat of Arms of the Republic of Lithuania. Below the Coat of Arms, fragments of press and documents from the period of the end of 19th century to the beginning of 20th century, which are closely related to the activity of Jonas Basanavičius, are arranged. The inscriptions LIETUVA (Lithuania), 2001 and 50 LITŲ (50 litas) run in a semi-circle.
The reverse
of the coin displays the portrait of Jonas Basanavičius. The facsimile of his signature and the years 1851-1927 are displayed to the left of the portrait.
On the edge of the coin:
KAD AUŠRAI AUŠTANT PRAŠVISTU IR LIETUVOS DVASIA (SO THAT THE SPIRIT OF LITHUANIA BRIGHTENS WITH THE COMING DAWN).