600th anniversary of the Grünwald Battle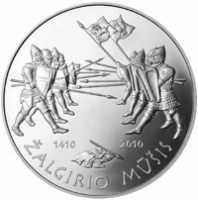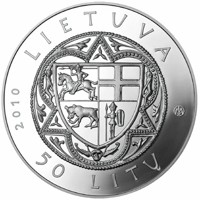 The obverse
of the coins features a seal of the head of the state of that time, with the inscriptions LIETUVA (Lithuania), 2010, and 50 LITŲ (50 litas) in a semicircle around it.
The reverse
of the coins features scenes from the Battle of Grunwald, which include infantrymen clothing, armour and weapons typical of that time. The inscriptions ŽALGIRIO MŪŠIS (The Battle of Grunwald) and 1410-2010 are arranged in a semicircle.
On the edge of the coin:
stylised 15th century spearheads.